RESIDENTIAL GARAGE AND COMMERCIAL OVERHEAD DOOR INSTALLATION, MAINTENANCE AND REPAIR
We pride ourselves on the quality of our service and installation of residential garage and commercial overhead doors.
Our professional installers are full-time employees trained to meet our high standards. Together they have over 75 years of experience which allows us to maintain the quality of our service and installation of residential garage and commercial overhead doors.
FREE DOOR ESTIMATES
If you want an estimate over the phone: Please measure the width and height of your door opening to the nearest inch. For instructions on how to measure for a new door, click here. Please also measure the exact number of inches above your door opening to where any obstructions exist such as trusses, rafters, wiring conduit, etc. Once you have these measurements, call us for a customized quote.
If you would like to schedule an appointment for a free estimate or would like to see sample door panels and brochures, please call our office at (225) 753-1595.
RESIDENTIAL GARAGE DOOR & COMMERCIAL OVERHEAD DOOR INSTALLATION
Our professional installers will install your door or operator according to the highest industry standards. We can also remove your old garage/overhead door at a nominal charge.
RESIDENTIAL GARAGE DOOR & COMMERCIAL OVERHEAD DOOR REPAIRS
Our experienced technicians can service almost all models of doors and openers. We pride ourselves on honesty and our technicians are trained to only make the repairs that are necessary. Unlike other companies, our technicians are paid on an hourly basis and are not provided with any extra compensation based on the cost of the repairs they make. Call us at (225) 753-1595 to schedule an appointment.
SPRING REPAIRS
One of the most common repairs involve replacing broken springs on your garage door. Garage door springs are usually rated for 10,000 cycles (a cycle is one opening and closing of the door). Therefore, if you open and close your door on average three times a day, your garage door springs should last approximately 9 years. When your spring does break, your door will be very heavy and difficult to lift. In order to properly repair your springs we will need to know several things about your door. The following is a guide that will help you provide us with the correct information.
Click for answer
What type of springs do you have?
The most common types of springs in our local market are torsion springs and TorqueMaster® springs. Torsion springs are large coil springs that are located at the top of your door when it is closed. Here is a picture of some torsion springs: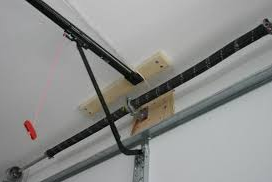 TorqueMaster® springs are concealed in a metal tube that extends across the top of your door. Here is a picture of a TorqueMaster® spring:
We keep a large number of torsion and TorqueMaster® springs in stock and can usually make your spring repair without having to order the springs.
What is the width and height of your door?
In order to select the correct springs for your garage door we will need to know the width and height of your door.
Is your door insulated?
We will also need to know whether your door is insulated or not. The easiest way to determine this is to look at the inside face of your garage door. Below is a picture of a non-insulated garage door. As you can see, the panel stamp on the the door is visible from the inside.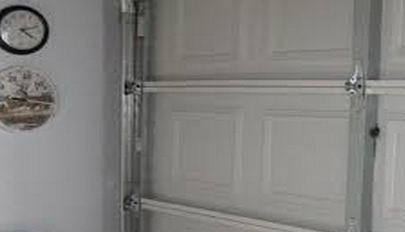 If the inside face of your garage door has foam or plastic, it is insulated. Below is photograph of the inside face of an insulated garage door: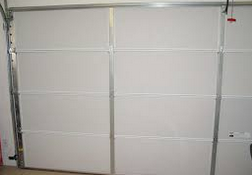 Should I replace both springs?
Most garage doors have two torsion springs that were installed at the same time. When one breaks it is likely that the other spring's life expectancy has just about expired. Therefore, we usually recommend that you replace both springs. Not only is it less expensive to change both springs at one time (as opposed to one spring at two different times), it also saves you from the inconvenience that comes with a broken spring.
Southeastern Overhead Door Warranty Information
NEW INSTALLATIONS – At Southeastern Overhead Door we stand behind the quality of or work. For all new installations, we provide a one (1) year warranty against any defects in the materials and/or labor we provide to our customers. This warranty covers the labor and materials necessary to correct any such defects. We also pass on any of the manufacturer's warranty to the original homeowner.
REPAIR AND SERVICE WORK – Southeastern Overhead Door provides a ninety (90) day warranty against any defects in the labor and any materials we use in servicing or repairing your door, operator or other product.
What Is Not Covered
WORK PERFORMED BY OTHERS: If anyone other than Southeastern Overhead Door works on any new or repaired part covered by this warranty, then that part and the labor to repair or replace that part is no longer covered under this warranty. For new garage door installations, see the manufacturer's warranty for what is not covered under its warranty.
ABUSE/MISUSE/ACTS OF GOD: The warranty does not cover problems caused by abuse, misuse or Acts of God (lightning, flooding, etc.).
PHOTOCELL OUT OF ALIGNMENT: The photocells on both sides of the opening must point at each other. We will align the photocells at the time of the installation or initial repair. However, sometimes someone or something hits the photocells and knocks them out of alignment. A blinking light on a photocell indicates a problem with the alignment. Your door will still close if you hold the pushbutton. You must realign the sensors for the opener to work properly. If you call our office we will gladly walk you through the process.
OBJECTS IN THE TRAVEL PATH OF THE DOOR: Objects such as brooms, rakes, or a car will interfere with the normal door movement if in its path. It takes a few seconds for the operator to realize it has hit someone and reverse. However, this can damage your door and your property.
DISENGAGED EMERGENCY RELEASE: This release if for when electrical power is lost. With the door in the down position, a downward tug on the red rope should free the door from the operator. Reverse this procedure to re-engage the door before operating electrically.
VACATION/LOCK SWITCH ENGAGED: This is a security lock switch on the wall button. The remotes will not work when this feature is engaged.
WET PHOTOCELLS/OPERATORS: If the photocells or operator gets wet, an electrical short can occur causing damage. Securely cover photocells and operator when washing out your garage.
CUSTOMER PREVENTIVE MAINTENANCE: Lubricating the door's tracks and rollers every six months will extend the life of your door and operator. Additionally, the batteries in your remotes will have to be periodically replaced. Finally, the light bulbs in your operator will have to be periodically replaced.