Quality Residential Garage Door Products
For many homes the garage door is the largest exterior feature, so it is a great space to give your house a facelift at an affordable price. By replacing an older ordinary garage door with one that complements the rest of your home, you can dramatically improve your home's curb appeal. Additionally, replacing your garage door is a great investment. According to Remodeling magazine's 2015 Cost Vs. Value Report garage door replacement delivers an average 88.4 percent return on investment (ROI) for homeowners.
For more information about our Residential Garage Door Products, contact Southeastern Overhead Door at
Residential Garage Doors
At Southeastern Overhead Door, our primary residential garage door line is made by Wayne Dalton at its manufacturing facilities in Pensacola, Florida and Mt. Hope, Ohio. Since its inception in 1954, Wayne Dalton has become known as a company with innovative ideas which far exceed industry standards. We are proud to be one of the largest Wayne Dalton dealers in the United States. Wayne Dalton garage doors offer a wide selection of wood garage doors, carriage house style garage doors, classic steel garage doors, contemporary aluminum garage doors, designer fiberglass garage doors, vinyl garage doors and insulated garage doors. With over 16 residential garage door collections and a multitude of color, window and decorative hardware options, Wayne Dalton is able to suit the personal taste and architectural style of virtually every customer.
Our most popular Wayne Dalton models are:
Wayne Dalton Model 8000 Steel Non-Insulated Garage Door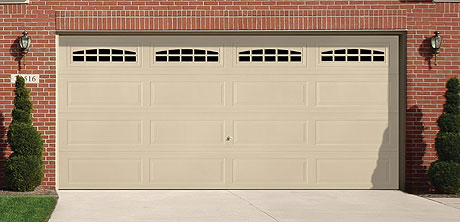 A basic, entry level Wayne Dalton uninsulated single steel garage door with embossed panel designs and optional decorative windows for added charm and curb appeal. For those living in coastal areas with high wind requirements, this model is available with wind load reinforcement.
With Model 8000, you can choose from the following panel designs:
Colonial Raised Panel

Ranch

Sonoma
Model 8000 is available in 4 different colors at no additional charge:
Almond
Brown
Taupe

White
Wayne Dalton Models 9100 and 9600 Steel Insulated Garage Doors
Models 9100 and 9600 features pinch resistant door panels that protect against injury. Chosen by homeowners for its strength, durability, and gracious design, Model 9100 has polyurethane foamed-in-place insulation. Model 9100 is constructed with a steel-polyurethane "Toughguard" backer and has an R-value of 9, giving this garage door excellent strength and insulating ability. Model 9600 has a steel backing giving it an R-value of 11 and added strength and durability. Both of these models come with a limited lifetime warranty.
Models 9100 and 9600 offer safety, beauty, and durability at the most affordable prices for steel doors. Embossed, high tensile steel panels give the look of wood with the strength of steel adding style and curb appeal to your home.
These are no ordinary garage doors. The front panels of Models 9100 and 9600 are made with high-tensile steel finished with an easy-to-maintain, baked-on polyester finish. Inside, top and bottom horizontal struts add rigidity and result in smoother operation. The foamed-in-place insulation delivers better sound control and dent resistance. Not only that, but it is offered in four distinctive designs, four factory finish colors and a wide selection of window options.
With Model 9100, you can choose from the following panel designs:
Colonial Raised Panel

Contemporary / Flush

Ranch
Sonoma Ranch
Sonoma
With the Model 9100, you can choose from the following colors:

Almond
Brown
Desert Tan
Gray
Green (9600 only)

Taupe

White
Wayne Dalton Model 9700 Carriage House Garage Doors
Wayne Dalton's steel garage door Model 9700 is stylish and versatile, offering a wide variety of carriage house designs, large windows and multiple colors or stain options. These garage doors feature pinch resistant door panels and are fully insulated with an R-Value of 10*. These carriage house garage doors offer embossed, high tensile steel panels that give the look of wood with the strength of steel.
Choose From 10 Different Panel designs:

Bellview

Charleston

Chatham-Full
Chatham-Top

Lexington

Newport
Oak Park

Portland-Top

Providence

Westfield
With the Model 9700, you can choose from the following colors:
The above panel designs come standard with a white paint finish which look great on any home. Many people, however, choose to custom-paint their doors to match their home's trim or select one of the optional factory finish paint or stain options available below. Actual door colors may vary slightly from the website images due to fluctuations in paint or staining process.
Solid Painted Finishes:

Clay

Clay / White

Gray

Gray / White

Green
Green / White

White
Stained Finishes:

Gray
Clay

Green

Honduran Mahogany
Mahogany

Oak

Red Oak

Walnut
Choose a Window:

6 Window Arched
6 Window Square

8 Window Arched
8 Window Square

12 Window Arched

12 Window Square

16 Window Arched
16 Window Square

Plain Window Arched
Plain Window Square
The Model 9700 garage door designs are offered with solid panels for the top section, though it is possible to select a window option from the following 10 styles of garage door windows. Optional insulated glass available for improved thermal performance.
To see the other wide variety of options available from Wayne Dalton, please visit the Wayne Dalton Website.
For more information about our Residential Garage Door Products, contact Southeastern Overhead Door at
How to Measure for a New Residential Garage Door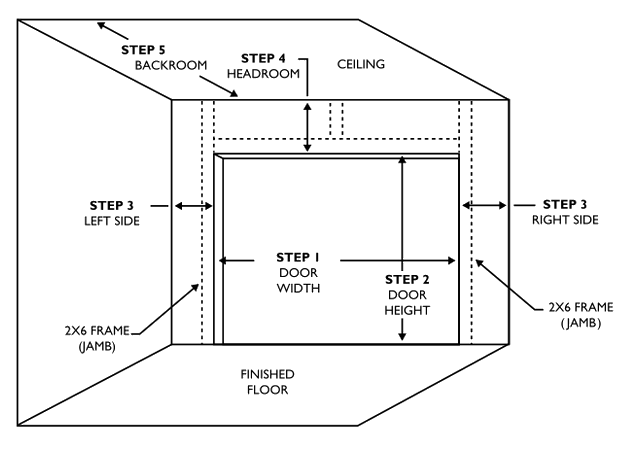 Step 1: Measure the width of the door opening. This is the distance between the right and left sides of the finished opening.
Step 2: Measure the height of the opening. This is the distance between the floor and the top of the finished opening.
Step 3: Measure the side room on the left and right sides of the openings. Up to 6 inches is required on each side for installation of the vertical track. Make sure no entry or attic door will interfere with the horizontal track.
Step 4: Measure the area between the top of the door opening and the ceiling (or to the lowest obstruction at ceiling). 12 inches is required for a standard door. Another 2 inches is needed if you are going to add an operator. If you do not have sufficient headroom, special low headroom hardware is available.
Step 5: Measure the distance from the opening to the rear of the garage or nearest obstruction. For sectional doors, the backroom requirement is the door height plus an additional 18″ for manual lift doors. If an electric opener is to be installed, the door's backroom requirement is the door height plus an additional 4'2″.
Click Here to Download Garage and Overhead Door Framing
Click Here to Download Garage Door Wiring Diagram
For more information about our Residential Garage Door Products, contact Southeastern Overhead Door at
Residential Garage Door Openers
For over 45 years, LiftMaster has been exceeding expectations by providing peace of mind through expert services and innovative solutions. LiftMaster produces high quality, durable, cost effective products and our customers have had great success using these operators in their homes and commercial buildings. Southeastern Overhead Door has been selling and servicing LiftMaster operators for over 35 years. As a result of our premier sales and installation levels of LiftMaster products, we have been recognized by LiftMaster as a ProVantage Dealer. We also have a large inventory of LiftMaster parts for purchase.
Here are some of our most popular LiftMaster models:
LiftMaster Model 8165 – 1/2 HP Chain Drive Operator
This operator is the ideal choice for value and reliability and is the model we keep in stock for residential use. Its durable 1/2 HP motor combined with an industrial-strength chain drive provide smooth, steady performance year after year. The one-piece solid rail and full circle continuous chain offer better durability than other models sold in big box stores. This operator comes with built in MyQ® technology and also comes with a 4 year motor warranty.
LiftMaster Model 8360 – DC Powered Chain Drive Operator with Battery Backup
This Premium Series model provides industrial-strength performance, comes fully equipped with Security+ 2.0® and MyQ® Technology and is also offers a Battery Backup system that continues working even when the power is out. This is a great feature, especially if you live in an area that is prone to power failures.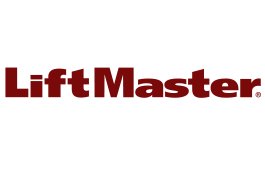 We also offer the full line of LiftMaster residential operators. Click here to visit the LiftMaster web site and choose your residential opener from their extensive product line. If you have any questions, please call us at (225) 753-1595.
Residential Garage Door Opener Accessories
LiftMaster 877 Max Keyless Entry System
Get convenience on the go. This wireless keyless entry system lets you open or close your garage door without using a remote control or key. Plus, it works with all LiftMaster® garage door openers manufactured since 1993.
LiftMaster 828LM Internet Gateway
You can connect your garage door or gate operator to the Internet with an Internet Gateway. This will allow you to control your operator remotely through your smartphone .
Southeastern Overhead Door Warranty Information
Click Here to review the Southeastern Overhead Door warranty information